We are part of a group of shops that become NAPA AutoCare Centers because of their commitment to quality, ethical automotive service and repair. We meet and exceed and have done so since we started back in 1989.
This means we are dedicated to installing quality parts which allows us to offer excellent warranties. Ask about our 24 month / 24,000 mile warranty or our 36 month / 36,000 mile upgrade when you use your NAPA Easy Pay card with 6 month same as cash financing.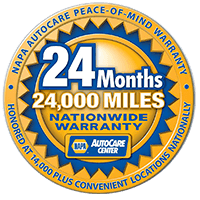 Code of Ethics
THE NAPA AUTOCARE CENTER CODE OF ETHICS
Every member agrees to:
• Have at least one ASE-Certified technician on staff.
• Perform high-quality diagnostic and repair service at a fair price, using quality NAPA parts.
• Uphold the integrity of all members of the NAPA AutoCare Program.
• Maintain the highest standards of the repair service profession.
• Be dedicated to customer satisfaction.
• Obtain prior authorization and provide a price estimate for work to be performed.
• Exercise reasonable care for the customer's property while it is in the shop's possession.
• Provide a system for fair settlement of customer complaints, should they occur.
Ongoing Training
Our members are retraining their teams annually as technologies change. The National Institute for Automotive Service Excellence (ASE) is an independent, non-profit organization that tests and certifies individual automotive repair technicians based on skills, knowledge and experience. Our shop's mechanics are given industry-best standards training as it come available. NAPA locally purchases a variety of training for it's AutoCare Members.
Reviewed
Many of our shops are Repair Pal members and many of our shops are 5 Star Demand Force Rated for Auto Repair in Albuquerque. Check individual shop websites for their customer reviews.
Peer Review – Also, as part of an ongoing commitment to the quality of the membership of our group, we have a panel of fellow shop owners who conduct shop visits and secret shopper exercises to review AutoCare practices and offer industry standards support.
Certainly not all shops are created equal. But when you see the NAPA AutoCare name, you can know that this auto repair shop in Albuquerque has quality parts and certified mechanics. And, if you give them a shot, you'll probably find a mechanic you can stick with.